Prakasa is the culmination of our lifelong vision to create sacred space for people who desire high quality, yogic education in a natural and healing environment.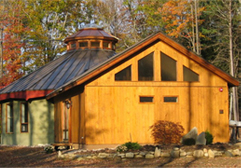 We designed and built our beautiful studio, by hand, using lumber milled from our own land. We employed "green" building techniques and "eco-friendly" materials so that the physical space will support your well-being, growth and enjoyment.

Our unique 12-sided studio is perfect for contemplative spiritual practices and special celebrations. It boasts radiant heated floors powered by a state of the art wood-fired boiler with logs cut from our property, a domed skylight and long elegant windows overlooking a southern slope. Our floating cork floor, harvested using sustainable methods, is both lovely to the eye and pleasing underfoot. See a gallery of photos here.

We chose Goshen because it is readily accessible (via route 9) to all of Western Massachusetts and our 10 acres are surrounded by 1,000's more. Here wildlife abounds: wild bear stroll contentedly through the woods; nightingales sing in the dark of night; hawks soar overhead; songbirds perch high in the tree tops and sing the dawn into being; sunlight and moonlight sift through the forest into the studio and our beautiful cat Shri - plays delightfully among them all.
We'd love for you to join our amazing hilltown community of yoga practitioners, musicians, artists and nature lovers at our brand new peaceful, woodland sanctuary. Come for community, adventure, enjoyment, healing or retreat….and especially to play!