Thank you for signing up to receive our email newsletter. As a thank-you, here is a recipe from Lynne that we hope you'll enjoy:
Super Green Smoothie: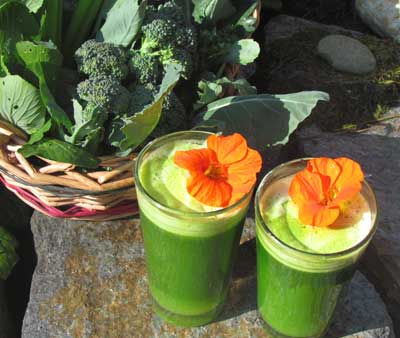 1 cup dandelion greens
1/2 cup parsley
1/2 cup cilantro
1/2 avocado, pitted
1 banana, peeled
1 orange, juiced
1/2 lemon, juiced
2-3 cups water
1 knob, fresh ginger
pinch cinnamon
pinch cayenne
Wash all greens. Chop or tear into 1-2" pieces.
Place all ingredients into blender, secure lid.
Blend all ingredients well, adjust amount of water to desired consistency. Dandelion greens detox your liver and keep your body healthy. Enjoy my super green smoothie for a super nutritious breakfast or an afternoon pick-me-up.
Enjoy!
Lynne Ann Paterson
Holistic Health Coach
ERYT-500 Yoga Instructor
www.youngerasyouage.com
www.prakasayoga.com